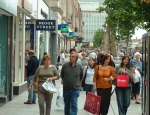 The region's favourite shopping destination
If you like shopping, whether you are buying for yourself or someone special, Exeter has the shops to satisfy everybody's taste. The city is fast becoming the region's favourite with ongoing developments that's attracting the very best in retail to provide visitors with an unforgettable shopping experience. All this together with the planned dining quarter will soon make a day's shopping in Exeter last into the night!
Exeter Shops & Shopping
The main shopping centre of Exeter is extensively pedestrianised and is served well by the Exeter bus services, which includes the park & ride scheme coming from the city's outskirts. There is pay and display street parking available in certain areas, this together with the many car parks offers the motorists a choice of parking areas within easy reach of the city centre.
Shopping Times: (approx)
Monday to Saturday - 9.00am To 5.00pm


Sundays - 10.30am To 4.30pm (Not all shops trade)
Princesshay
Exeter underwent a huge revamp to it's Princesshay shopping area. The work, which took over four years to finish, at a cost of over two-hundred million pounds, put the city firmly on the map as the area's favourite shopping destination. The development, completed by Land Securities, officially opened on the 20th September 2007 and added further to Exeter's shopping appeal bringing many top brands to the city. Together with some great local independent retailers, Princesshay has also become the home to several eating establishments, many providing a continental pavement-café service within Princesshay Square and Blue Boy Square.
As well as the new Princesshay development, Exeter still has many shops including chic, unique and top brands beyond this sector. The High Street is still the main shopping street in the centre with Princesshay being just one of a number of shopping zones that lead off. Others, including Harlequins and the Guildhall shopping centres, Queen Street, South Street and Sidwell Street all offering plenty more.

The busy High Street, its quaint little shopping streets leading off, and the undercover centres all provide mainly pedestrianised shopping in the heart of Exeter. While the city's retail parks can be found a little further out at Stone Lane / Marsh Barton, Exe Bridges and Rydon Lane.
Exeter Shopping Areas:
Exeter Shopping Directory
A selection of entries taken from the ExeterViews.co.uk Shopping Directory.

Nutshell
Natural Paints offer an environmentally friendly and natural alternative to petrochemical paints and varnishes.

Packnmove
Suppliers of cardboard boxes and storage boxes, ideal for moving house or office.

Bernaville Nurseries
Garden centre located in Cowley, Exeter.

Nomadic Travel
Specialist travel agent offering tailor-made, escorted and specialist holidays for the more independent and discerning traveller.

The Real Food Store
The Real Food Store in Exeter strives to support local supply chains and sustainable food and drink production.

Visit the Exeter Directory for a Connection to Exeter Shopping and other things local for the resident or visitor to Exeter...
---
More Exeter Shopping
Shopping Areas
Area Shopping Map
Shopping Directory
---